Owner and Founder, Laura Jackson Loo, is a national public speaker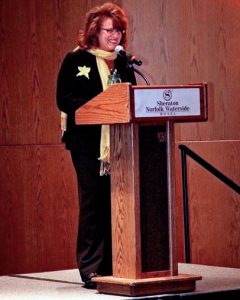 of 25+ years.  She is an experienced marketer, strategist and presenter and has given keynote speeches, seminars and lectures on topics including The Evolution of BusinessTM, personal development, quantum physics, the health and wellness industry, and arts and music.
Laura is an inspiring, engaging and dynamic presenter.  She is an expert in many areas and constantly builds on her research, facilitation and public relations skill sets.
An invited speaker at conferences and special events, Laura has also been featured online, and on radio and television. Recognized as an engaging speaker with in-depth insights, Laura helps others 'connect the dots' to understand the full breadth of topics and enables them to create positive 'quantum' change in their personal and business lives.
Email to book Laura for your event.
Speaking Topics
Complementary and Alternative Medicine
Creative Problem Solving for the 21st Century
The Evolution of BusinessTM
Health and Wellness
Marketing in the 21st Century
Messaging
Metaphysics 101
Motivational and Inspirational Keynote Addresses
Music and Arts
New Paradigm Business ModelTM
New Paradigm Community
Non-Profit Board Development
Peace
The Future of Non-Profits and NGOs
Quantum Physics

Email to book Laura for your event.
Testimonials
"Your lecture was so well-received by my granddaughter and me.  Absolutely one of the best lectures I have attended during the past 28 years."   –Phyllis (Virginia Beach, VA)
"Your lecture last Sunday was super.  Your passion with delivery of the message is beyond super.  I noticed that during your delivery you are in an element of what I term "Spiritual Bliss."  Somehow the "Divine Connection" is so embedded that a "Higher Power" moves through you."  –McCant (Virginia Beach, VA)
"I have had the opportunity to hear Ms. Jackson Loo speak on several occasions and I have to say that she is excellent. Her knowledge of her subject matter is obviously quite deep and the presentation is fresh and entertaining as well. She engages and interacts well with the audience and in watching the audience as she spoke, it was obvious to me that they felt right at home. Given the opportunity I would highly recommend that anyone attend any of her presentations or seminars."  –Glen, Senior Instructor and Therapist, Strong Mountain Association (Richmond, VA)
"Laura Jackson Loo is an ubiquitous soul in action as she aligns and allows spirit to pour through her heart/mind, body, and spirit to translate the light of pure cosmic wisdom on the topic of 2012. Laura additionally taps into the same etheric vibration by playing the flute and you will know that you have received a tremendous gift from spirit by being in her presence and listening to spirit's message to you through Laura."  –Krystal (Richmond, VA)
"Laura Jackson Loo is a dynamic, compassionate, thought-provoking speaker. Her ability to interweave complex and separate pieces of research and information together in a way that is easily understood is powerful. If this were her only strong suit that would be more than enough. Laura takes the listener beyond the mind and fully engages the heart in the change that is required within each of us to shift the paradigm away from helplessness to empowerment."  –Carol, visionary, seer, author: A Call to Remember: Follow Your Heart Change the World (Fredericksburg, VA)
"Laura Jackson Loo is one of the most dynamic and engaging speakers I have ever had the pleasure of hearing. Her command of the subject matter is enormous and her presentation skills capture the listeners total attention. I can't wait to hear her again."  –Irma, Psychotherapist, NCC, LPC (Connecticut)